Posted on
By Capt. Deckhand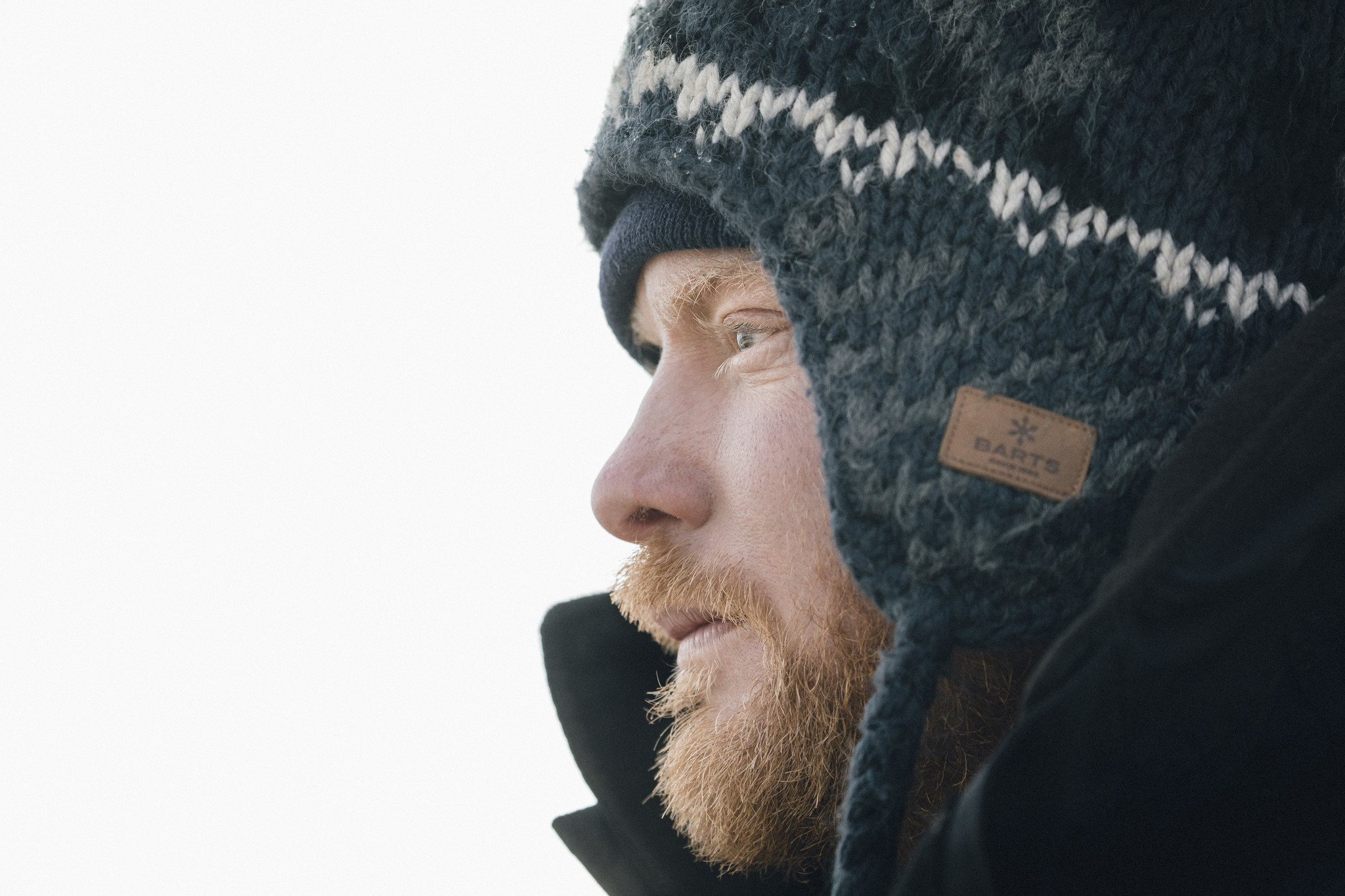 copyright @ Martijn Smeets Fotografie

Autumn and winter are majestic seasons to go sailing for those who dare to conquer the wet & cold. However, sailing in these seasons is not without its challenges. Floris de Waard is a seasoned sailor when it comes to sailing in the cold and wet. Floris shares his experiences and tips & tricks for clothing when sailing in cold conditions with us and you! Besides great stories of his encounters with the wildlife in the wide land and waters of Spitsbergen.
The beginning
It's March 2017 when Floris de Waard sails off to Spitsbergen with his girlfriend and best friend on his ship De Noorderlicht (Dutch for Northern Lights). He follows in the footsteps of no one other than Willem Barentsz. When he saw spiky mountains loom he named it Spitsbergen. 
With temperatures of -36 degrees Celsius and more polar bears than people living there, Spitsbergen is not for everyone. 
Sailing in between endless ice floes and fjords De Noorderlicht operates from its new berth.  Floris discovers the many faces of Spitsbergen with his guests while charter sailing as a skipper. Clear blue skies, freezing cold and the crystal clear Arctic landscape together form the backdrop of this impressive winter venture. 
Before Floris can welcome his guests aboard De Noorderlicht he first has to make the crossing from Norway to Spitsbergen. The waterway between northern Norway and Longyearbyen is notorious for its heavy seas. 
How did you experience that first crossing?
"They call this area during bad weather the Devil's Dance Floor because three flow directions come together in that waterway. It can result in massive waves of six or seven meters high."
I had never sailed from Norway to Spitsbergen before, I had only flown to it and had been sailing around it. The weather was bad enough for the place to indeed turn into the Devil's Dance Floor. We have had to beat into that and sail continuously 24/7 for five days straight. 
Finally, we made it to the southern tip of Spitsbergen. We saw a couple of sea birds and that meant that land was nearby. Everywhere you looked ice floes were visible, ice was floating everywhere. The sea ice was melting and because of the strong winds, the ice was spread all over the water. On some of these floes, you can park a car, that's how big they are. So here we are: zigzagging through the water dodging these mini-floating icebergs. De Noorderlicht is not an ice-strength, long-range ship but was strengthened for the expected weather circumstances so it can take a beating. We navigated to Longyearbyen and ended up in the ice fields. We had never done that trip before so we thought 'I guess this is normal.' Apparently, this was not normal. No ship sails to Spitsbergen that early in the year and definitely not a ship of 47 meters. They had not seen that before, that timing amounted to pushing the envelope at best, and being slightly off your rocker at worst.
What were the people used to? Much bigger ships or only really small ones?
Typically they only see the enormous ice-strength ships. Imagine these nuclear tankers that sweep right through the ice. They make our ship look tiny. When we finally arrived we docked the ship at the pier and we were feeling pretty good about ourselves. That's when the entire village would gather to watch us. Everybody wanted to know who these weird guys were and what they had been through. There are not many people living there so we made it to the newspaper, so to speak. 
Once on location, was it time for the sailing tours to start in Spitsbergen?
We then had a week to do maintenance before our first guests came aboard. 
How was your first time being a captain sailing around Spitsbergen?
The first trip that we did with guests was the most beautiful journey I have ever experienced for sure. It was the combination of the sea ice that closed the fjords and the temperature of minus 36 degrees Celsius. We do not have autopilot and we do not have a wheelhouse so when you sail you are standing right outside.
"The cold was harsh but we saw unbelievable amounts of polar bears."
They are not completely white, more like a yellowish white so they contrast beautifully with the bright white ice where they hunt seals. Because of the fjords closed with ice, we sailed a lot closer to the polar bears than usually possible. I have never seen so many polar bears as that week. The group of guests we had aboard was wonderful so nothing but great memories of that fantastic first week.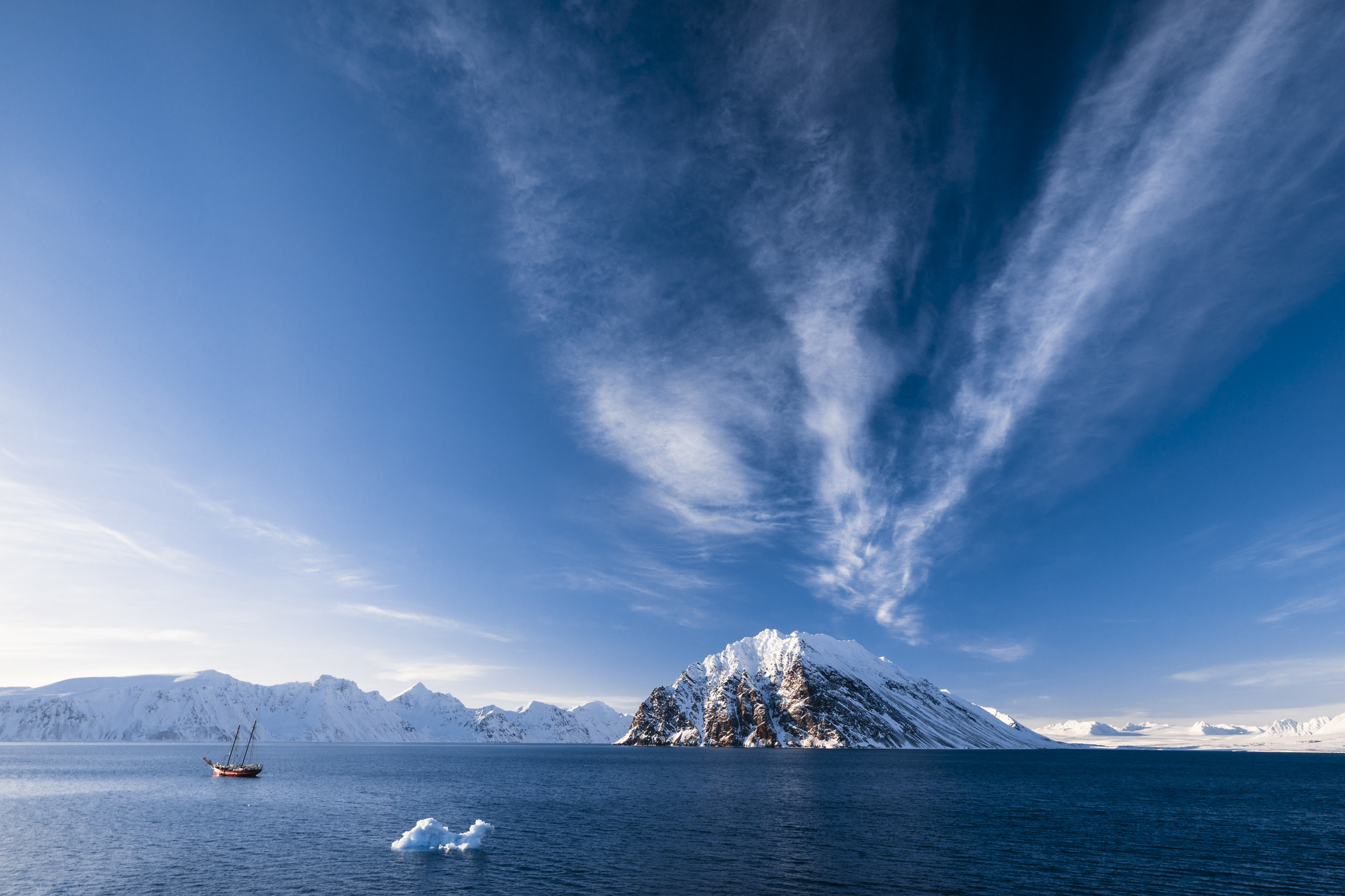 copyright @ Martijn Smeets Fotografie
How do you prepare for -36?
The first time that I went to Spitsbergen the then owner told me: ''Floris, you should bring some warm clothes.''
I googled for a while and then I bought the most ridiculously expensive coat ever, made specially for arctic temperatures like -30 degrees. So I took that coat with me and I have only worn it once in all the five years I was there. That coat was so hot, it was in fact over the top. 
What do you look for now when you buy warm sailing gear?
I work pretty hard physically when I'm sailing and I take the heat that arises from that effort into account. I try to retain my body heat with layers. The first layer is the most important. After your underwear, you add thermal wear as a base layer. On top of that I wear a layer of wool, so a wool sweater. Denim doesn't work at all. Why it is that way, I don't know. 
nohaca: Floris is right, denim is essentially processed cotton. Cotton absorbs and holds a relatively high amount of water, which makes denim unsuitable to wear as a base layer or middle layer. 
The colder you are, the more layers you can add. On top of my base layers, I wear a pretty simple - but high-quality -  waterproof sailing coat and sailing trousers. I really care about the lining of the coat. I want one with an extra woven layer.
nohaca: There are multiple ways and materials to produce waterproof coats and trousers. Waterproof and breathable membranes prevent rain from entering but at the same time allow sweat to evaporate. The membrane needs to be protected by a lining. When the lining is glued to the membrane, it is a three-layer membrane. When the lining is  "loose" it is called a two-layer membrane. A three-layer membrane is warmer but more rigid. A two-layer membrane is more flexible (freedom of movement) and is perfect for typical weather conditions in the Netherlands, even in the winter.
The waterproof coating wears off with time. That happens with every coat including the ones that cost more than 1000 euros. 
What else do you wear against the cold?
I typically wear a knitted hat or beanie. The best ones are made of merino wool. High-quality footwear is also important. Shoes protect your feet and your feet are – like your fingertips – the last tip of your veins. You do need to have a buffer against the cold there because these tips lose heat more. Shoes that can function as a buffer have very thick soles like sailing boots with plateau soles or hiking boots. 
Multiple pairs of gloves are essential, just like multiple hats and multiple pairs of wool socks. You have to be able to switch pairs. This is so important because you will sweat because of the multiple layers of clothing. When you sweat you are more at risk to develop frostbite: your limbs could freeze. This indeed happened to me. 
Ouch, what is your experience with frostbite?
I have lost all feeling in two of my toes and that feeling will never return. You get frostbite when your limbs freeze and because of that nerves withdraw. It is so dangerous because you don't notice it. I didn't realize I needed to change my socks. I learned that lesson, I change my socks three times a day in a climate like that. I didn't figure out what happened until a couple of days later.
"I took off my socks and saw two of my toes being pink with purple dots."
In Spitsbergen, you are obligated to sail with a guide because of the polar bears. You can't arrive like some kind of wild winter cowboy. I asked the guide: ''Would you mind checking my toes?'' so she looked and opened her eyes full of shock. Immediately she started blowing hot air on them but it was too late. I still can't feel two of my toes. You are the most at risk for getting frostbite in your fingertips, nose, and toes. Your arms have more circulation so they are a lot less likely to freeze. 
So this is why I always bring at least three pairs of gloves with me. I am a fan of motorcycle gloves because they are weather- and wind resistant and when you are handling a piece of rope they are not immediately ruined. 
What are other memories that have stayed with you from sailing in Spitsbergen?
The landscape and nature there is beyond beautiful. Spitsbergen derives its name from the place where you can enter Spitsbergen on the northwest point. Those very specific pointy mountains made Willem Barentsz call the place Spitsbergen, literally Pointy mountains in Dutch. If he would have seen the place for the first time from a different arrival point he would have chosen a different name.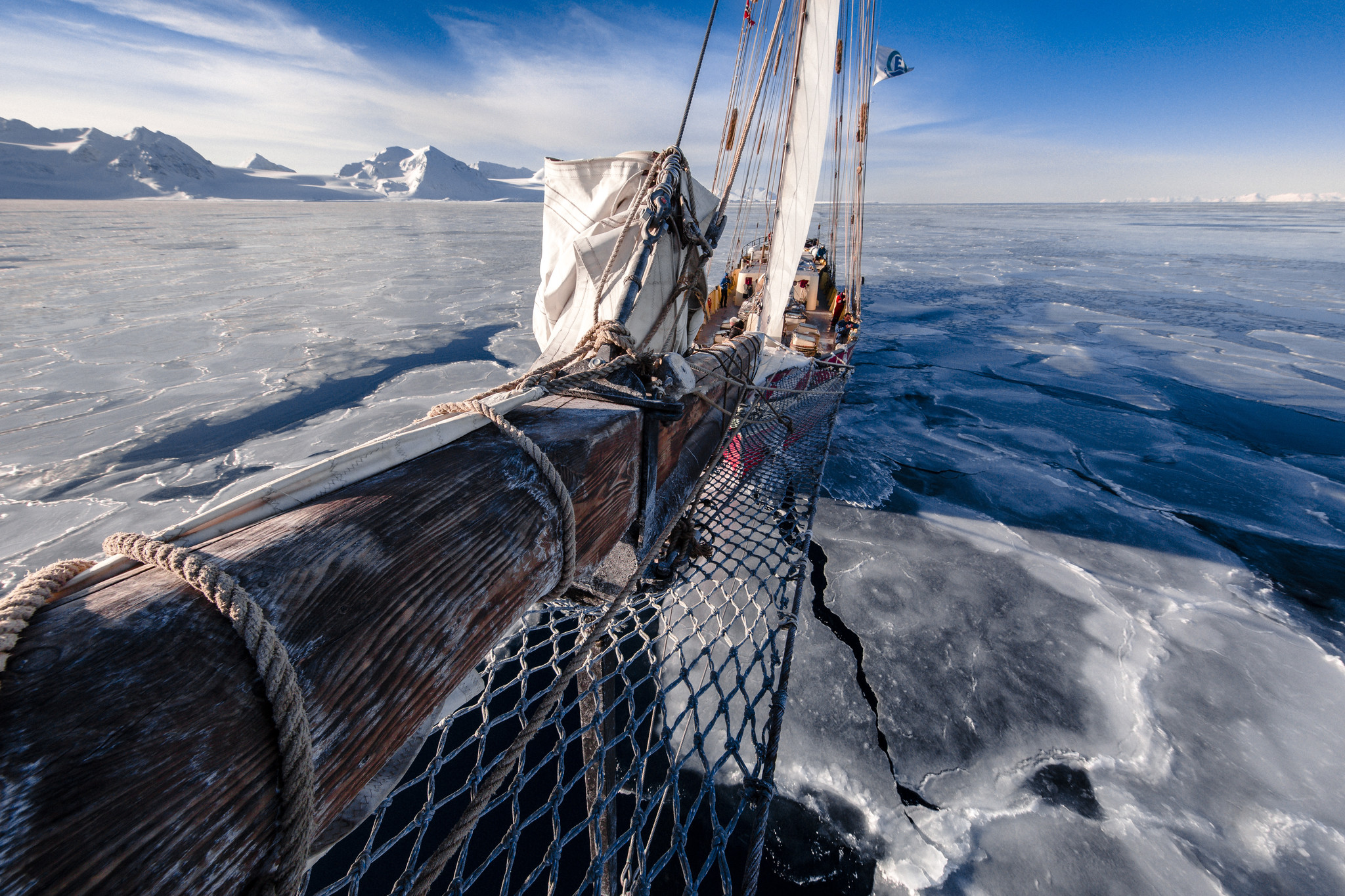 copyright @ Martijn Smeets Fotografie
The only way to truly see Spitsbergen is by boat. It's all one big national park. The people that want to go see it book a sailing tour and hop on land to see the archeology of the whalers and whaling vessels. Everyone wants to see a polar bear. The view from the ship on the rock formations is spectacular.
It is phenomenal to see a glacier but you really have to keep a certain distance. The glacier fragments can be as big as a car and land in the water 50 meters away. Truly dangerous, truly impressive. 
Something very dear to me often happens when the guests are sleeping and we are at anchor. The crew has anchor watch so they check on the position of the ship to make sure we stay anchored.
"It's night, the ship is completely silent when all of a sudden singing starts – like the hymn of mermaids."
This is the call of the bearded seal; it whistles or sings. A ship is also a soundbox: sounds get amplified like in a guitar. My berth is right in the middle so I hear it loud and clear. A more beautiful way to fall asleep does not exist for me. 
When you wake up – anchored in a fjord -  and you are lounging in your cabin and the morning light reflects against the white mountain tops right through your window, that's magical. It's one of those feelings that is hard to match. 
When is the best time to travel to Spitsbergen?
The best time to sail is from the end of April until the end of September because you have the most daylight then. In May and June, the sun never goes down: it just does not get dark.
"From the start of November until the end of January there is no sunlight. The Dark Days are notorious. "
Spring is my personal favorite: the months of April, May, and maybe June. That is when you have Spitsbergen at its purest. Everything is white, everything is cold. After that snow and ice can decrease. I have seen a temperature of plus five degrees. That white topcoat has turned into mud by then. 
Have you ever been there in the dark days as well?
Yes, I have traveled and sailed there in October or November but it was dangerous. You can't see a thing and the night frost might trap you. The seawater freezes so quickly that it is very much possible that you wake up after a night's sleep and boom – you're stuck. Don't underestimate the frost, it's nothing like we know here. Besides dealing with the frost it's also hard to maneuver around the blocks of ice in the water when you can't see them.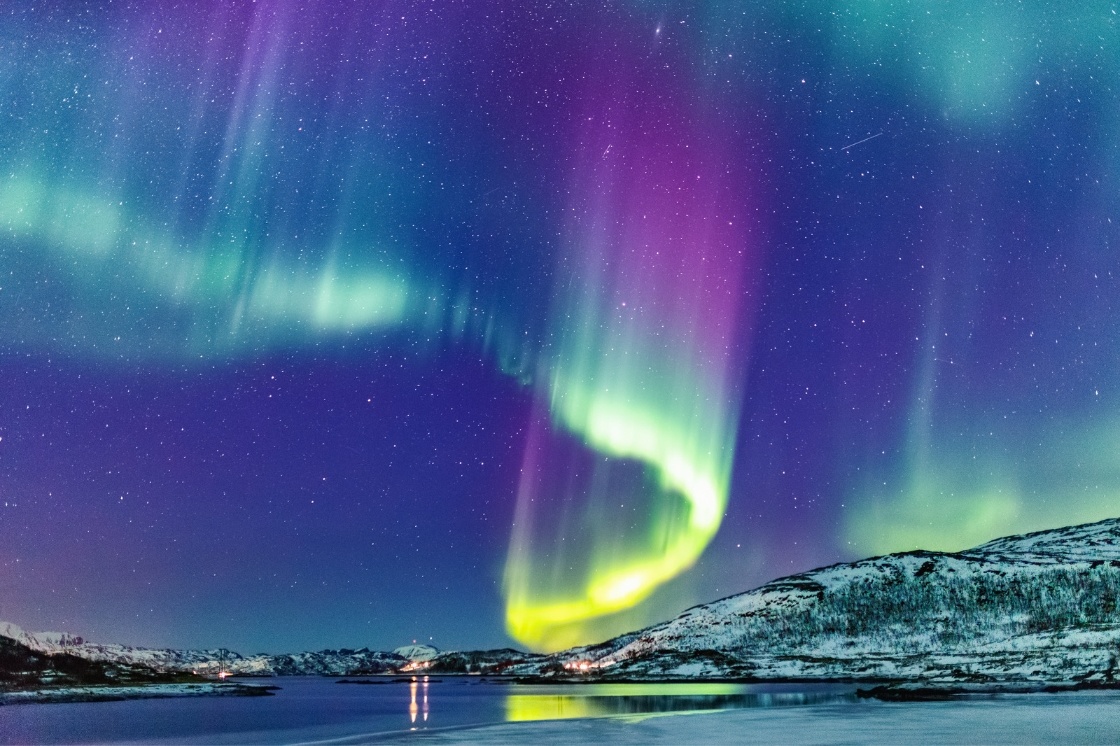 Could you tell me more about charter sailing there? What does it look like?
We are a group of 25. There are twenty guests and five crew members: the captain, the first mate, the second mate, the ship's cook, and the guide. The guide knows the rules and knows how to use a rifle. Not everybody may do that. The pick-up point for the guests is Longyearbyen, Spitsbergen so they fly there first. The guests stay for seven days in spring and every day we anchor two to three times. That's when we take them ashore with the tender. 
In summertime, it's possible to sail around all of Spitsbergen in fourteen to sixteen days. Some passages start being accessible – due to less ice – only in June or July. 
A stable high pressure often settles over the area; this then results in mild weather. Not in terms of temperature but in terms of other conditions. There is no extreme wind, we get blue skies. Great weather for skiing so to speak. Every night we anchor in these picturesque harbors and villages. Every day is Christmas in Spitsbergen. 
What else can you find on Spitsbergen?
It's truly a special destination. You can see these old mining towns such as Barentszburg and Pyramiden. The liveability of these towns has seriously decreased and not much coal is mined there today but it definitely is worth seeing. Thanks to the cold and low air humidity everything remains untouched. The fish oil kettles originating in 1600 are still there and in great condition. 
The place is very pure. You can't officially live there, you are only allowed to stay there. There are around 3000 inhabitants living in four villages. Spitsbergen is regulated by the Spitsbergen Treaty which assigned Norway as administrator. It is a no man's land, you can come if you make sure you follow the rules (like bringing a guide). There is no police but there are sheriffs, they are called sysselmenn. They keep an eye on the tourists, the inhabitants, and the ships. When you fail to comply you can either get fined or be deported. 
Something definitely worth contemplating is the seed vault. There is an old mine shaft repurposed to be the worldwide seed vault. Every seed you can imagine is there. Tomato seed? They have got it. Because of the cold climate, the seeds can't sprout; they are kept safe for the future. The idea being that if a plant goes extinct, Spitsbergen has the backup seed.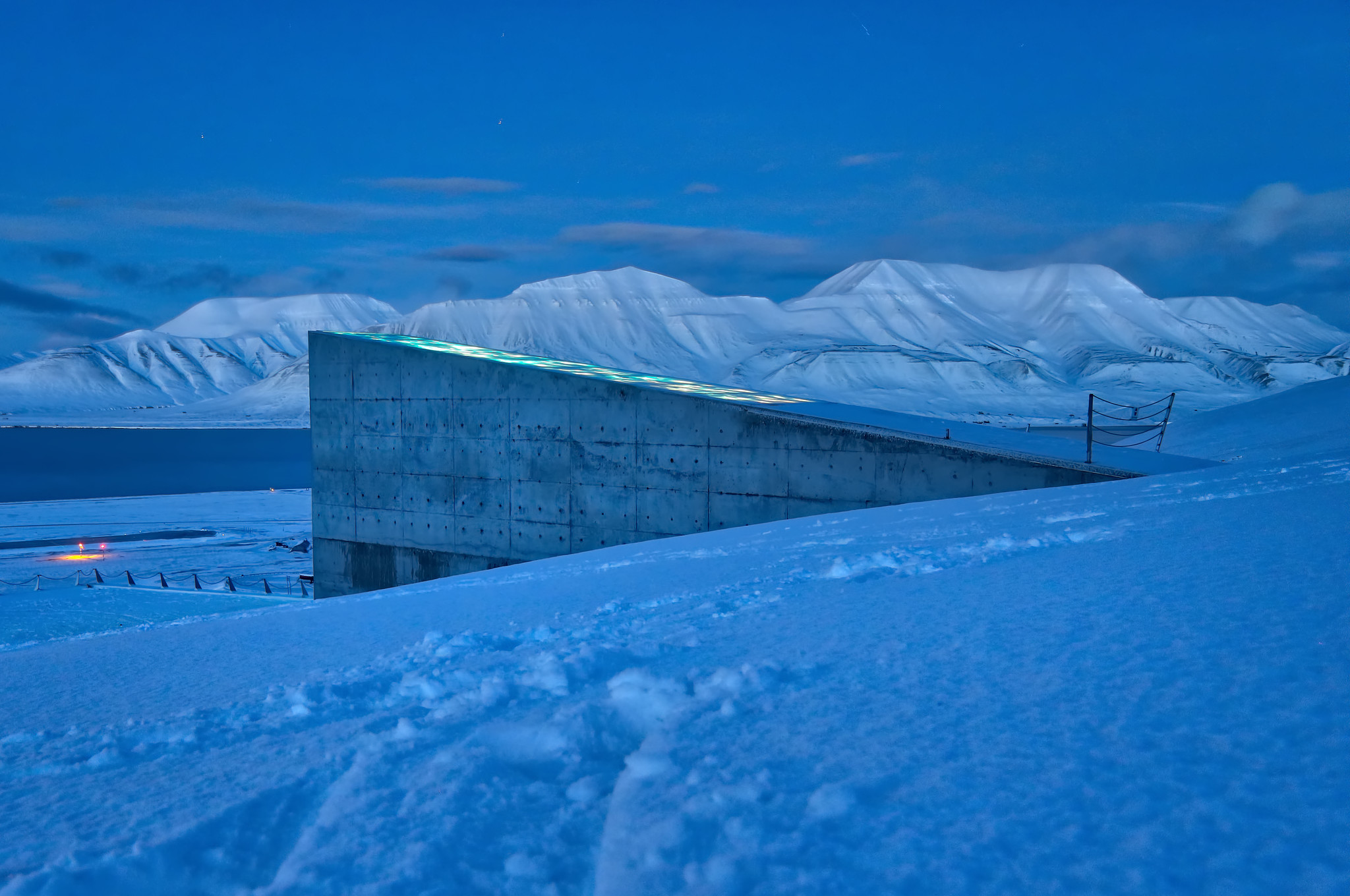 Spitsbergen is also a great location to observe stars and planets using a telescope. Because of the dark days and the few clouds, it is such a convenient location for research. I can't think of any places that have this little light pollution. 
The three identical mountains called the Trei Kroner are exactly that: identical in height and shape. You don't want to miss them. 
The last thing I'm thinking of right now is how magnificent the whales are. The white beluga whale can be shy but they can be seen in large numbers in June and July. It's just hard to sail around them then, that's how many there are. 
Not only belugas, mind you. Once we were sailing past the East coast and all of a sudden we were close to a school of 200 blue whales. One blue whale can be 20 meters long, so you can imagine how impressive that was. I've never seen anything like it.
"And to think, it's not even that far from the Netherlands: 1691 nm from the port of Rotterdam."