Posted on
By Xanthe Vermeiden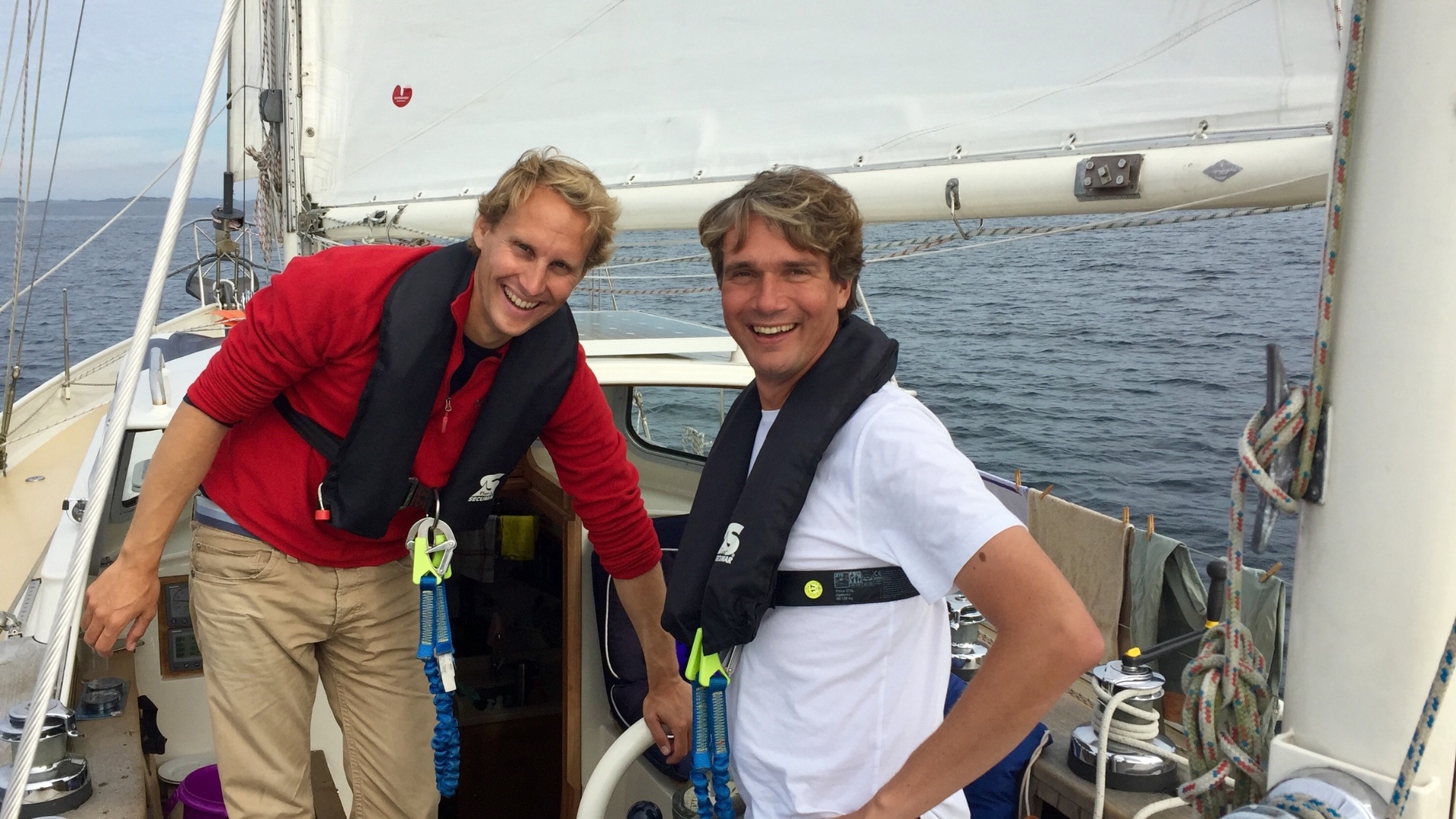 copyright all pictures Sailors for Sustainbility

When Ivar Smits (right in the picture) and Floris van Hees (left) quit their jobs in 2016, it was finally time to start their journey. They have visited 29 countries since, sailed 41,500 nautical miles, and found 60 sustainable solutions: meet Sailors for Sustainability. In this interview, they talk about the preparation and maintenance involved in setting out on a journey like this. How do you find a welder in South Africa? How do you decide when to do major maintenance? What do you take on board?
At some point, you must have made a decision to really change course. How did you dare to do it? What was the turning point that made you think, "Yes, we're going to do this?"
The boat was ready at some point. I grew up sailing. I eventually bought an old classic sailing boat, which turned out to be much more work to fix-up than I thought. But fortunately, I met Floris. He helped a lot to finish it. When the boat was ready, we of course really wanted to go sailing. We were also both in commercial positions at work and, at some point, we felt that we were not contributing meaningfully enough to society. We wanted to do more, and in a way that we could say to ourselves: "Yes, future generations will also benefit from this."
Slowly but surely, the idea came up to combine the trip with a promotional tour for sustainability. The emission-free nature of sailing makes it a good way for sustainable transportation. We also immediately realized that next to being enjoyable it is also rather slow, and labelled it positively as slow travel to contrast with everyday hastiness. We also gave ourselves the time, by quitting our jobs, to travel for years. This led us to also want to save money by simply using the wind. We wanted to bring low-cost living and slow living into practice and see how it would work out.
It took more than 10 years in total to prepare the boat. Not full-time of course. We also had help from professionals. It was useful that friends of ours had been traveling around the world on a steel boat a few years before us, they could tell us what they encountered. They had to do a lot along the way.
Do you also have a steel boat?
It is a steel boat from 1965. There was a teak wood deck on top. On the journey of our friends, the teak started to leak and they had to replace it on site. Then you also have the interior that gets water damage. We thought: let's fix that beforehand. We removed the entire teak deck and checked how good the steel was and removed all rust. It continued like this, under the motto of: "we are already working on it now. Let's also do this and this."
We hoped to do as much as possible beforehand to avoid maintenance during the journey. But you see that substantial maintenance is always needed. I believe that it is a very big pitfall for many sailors to want everything and have everything on board. We have consciously chosen not to want a lot of equipment: if you don't have it, it can't break either. We don't have a generator, a freezer, electric winches, and air conditioning. That might sound almost natural to a Dutch person, but if you look around at anchorages what people have on board...
it's unbelievable what people have with them. We don't have a large dinghy and or an outboard motor that runs on gasoline either. If the outboard motor of the dinghy breaks, it can take a very long time to get parts. That is really a waste of time, of course. We have really tried to have as few things on board as possible.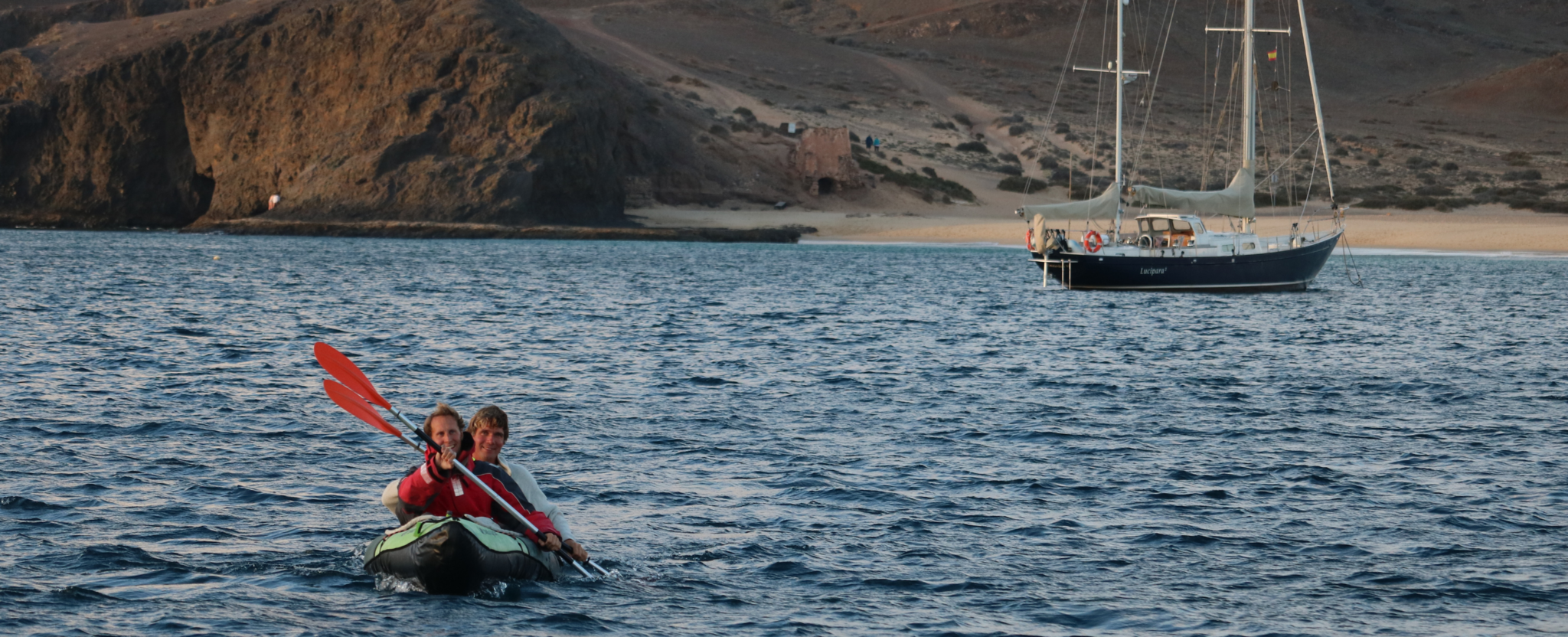 So the first tip for people setting out is: only bring the essentials. What else can you recommend?
The longer something lasts, the better. If you fix up a steel ship from '65, you significantly extend its lifespan.
For the paint on the hull, I still had some old single (?) component paint. I was too cost conscious and thought, let's just put it on. We did that and five years later everything was flaking off in the sun. In New Zealand, we had to repaint the entire hull because we had not chosen the right two component paint. That was definitely a lesson.
When we left the Netherlands, we had an electronic autopilot. We didn't use it much because we also have a wind vane steering system. That is an ideal thing at the back of the boat, which everyone should have. It steers the boat with only the power of the wind. You set the wind vane at the desired angle to the wind, and if the boat-heading starts to deviate from that angle, that blade pushes the boat back in the right direction. It's like an autopilot for your steering, using only the wind. So it doesn't use electricity. But if there is really very little wind, it doesn't work well, then you still have an electric autopilot that controls the normal rudder. We have always had problems with it and it only started working well recently. 
Do you have a specific maintenance routine? How do you plan for something like this?
There are standard things that need to be replaced on a routine basis. For example, the standing rigging every 15 years. And for the engine, there are also a certain number of hours when the oil needs to be changed. We keep a list of known things. Checking the life raft and fire extinguishers is also on the list.
We also have planned maintenance. We know in advance that we will come to places with good facilities, such as New Zealand. We were extensively out of the water there and were able to find all kinds of good suppliers who had parts. Locations with good facilities and a broad supply base are very useful and cannot be found everywhere. A lot of information is available on the internet and also from word to mouth from other sailors. Also very practically: our boat is 25 ton plus, so we hunt for locations with cranes that can handle that… We found only one place in the whole Pacific that could do that. The Canary Islands are also known as a place that is good for maintenance. We also did a lot of maintenance there in the end. Now that the boat is in South Africa, we are finding out that a lot can be arranged there; it has a lot of yachting traffic!
For those who are wondering: how do you find a welder on site? More tips besides talking to others and using Google?
Yes, there is a kind of Wikipedia for sailors. People can share their experiences at a particular marina, for example. Everything is really on there: from very general information about marinas to where you can enter the country to customs rules. Actual books on the subject are also available. There are also Facebook groups of sailors in certain regions. You can just send in beforehand: I'm going here and there, do you know a welder on location? One really doesn't want to be dependent on services that might not be available in practice. You also have to plan for time because it definitely takes time.
An other useful piece of advice: we have a good amount of spare parts with us. Parts that we know are difficult to obtain we have extra on board. We have a watermaker from an Italian brand and, for example, for which we have taken a lot of spare filters. That is maybe tip number one: you know that everything can break. Accept that. It will break, the question is only when. Be really critical about what you take with you. If possible, leave it at home. Again, If you don't have it on board it can't let you down. And if you do choose to take something with you, think carefully about which parts are crucial. Guaranteed that they are not available in any port of call, so take the spare parts with you.
Taking a step back in terms of making choices about what to take and not to take with you. If you decide to leave your settled life, it also is a choice for a different kind of life. A simpler life. When you consider a simpler existence, many things fall into unimportance. In my opinion, quite a few of the appliances that are commonly brought on board, like a microwave, aren't truly necessary. Those appliances with plugs tend to create escalation. You consider your appliances with plugs, and then you realize they consume energy. You can't produce that with a few solar panels. Then you have to install a generator. That's how it all becomes bigger and increasingly complex. We don't have an espresso machine, but we do have a pot for boiling water. Old-fashioned but delicious. I do have to add that we do have one plug-in appliance: a stick blender.
The things you do take with you should be of high quality. I would sometimes like to tell manufacturers: take your own stuff on a trip and experience how poorly it performs. As a sailor, if you have the opportunity, invest in something of high standard.
How do you make a plan for a voyage that will last more than a year?
The plan is largely determined by the local weather and the local highlights. Parts of the year with unsafe weather to sail must be taken into account. We also found it more pleasant to be in Norway in the summer: more light, longer days and a slightly higher temperature. You decide which season you want to experience where.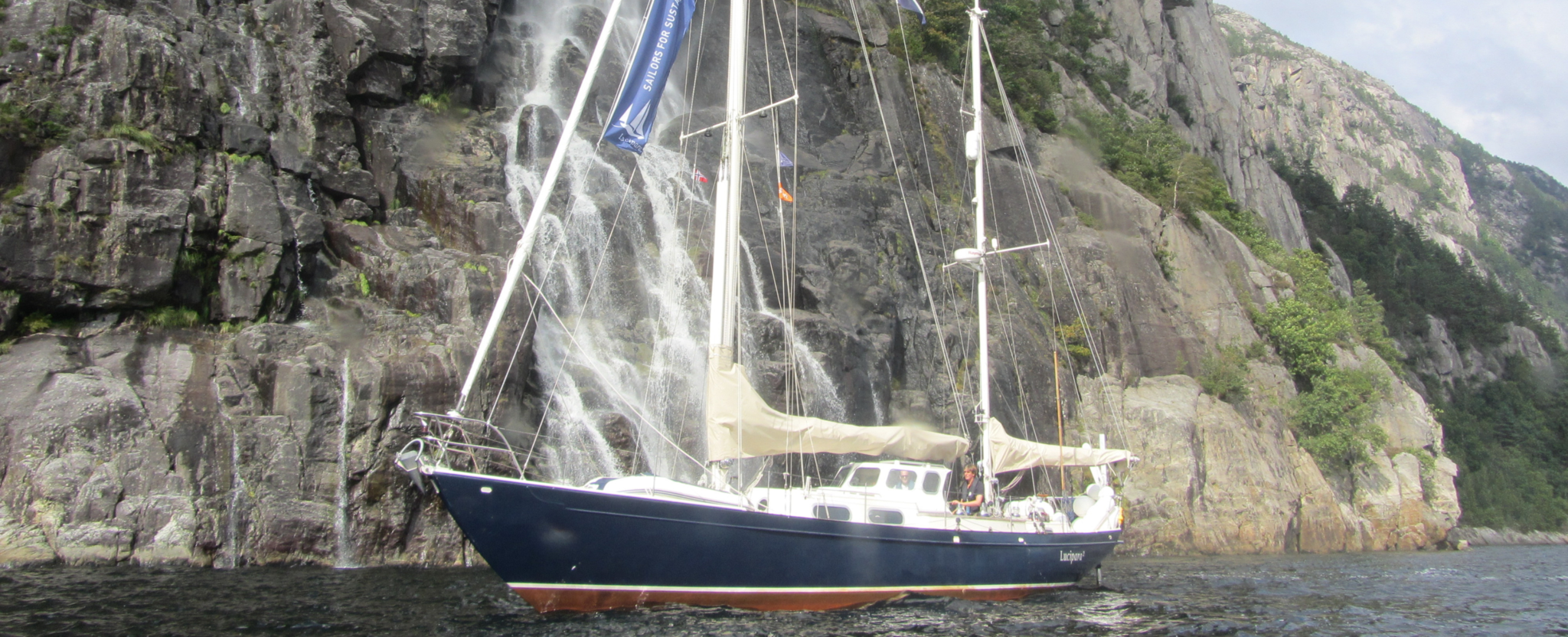 Everyone should know for themselves, but our advice is: build-in enough leeway in terms of time. It is possible to sail around the world in one and a half years, but you will mostly see a lot of water. And then there is very little room for maneuver if you have maintenance requirements, of which we just said that experience shows that you will get them anyway. For example, if your ship is in top condition and you sail for one and a half years, you won't have to replace your rigging. Other things however may get damaged due to wind- force related events: your sail, even your boom, I could go on. You never know what will happen, you can get temporarily stuck and then the plan will also get stuck.
Have you ever been stuck somewhere like that?
With COVID, we were stuck in French Polynesia. The countries we were planning to go to afterwards were all closed. We couldn't receive any parts either because the planes weren't flying. We couldn't go anywhere. It was beautiful there, with the palm trees and clear water, but we eventually wanted to move on and make more stories. We ended up staying there for 9 months. Afterwards, we spent another year and a half in New Zealand, Australia was still closed. So that was even more simplifying, living even slower and doing a lot of maintenance.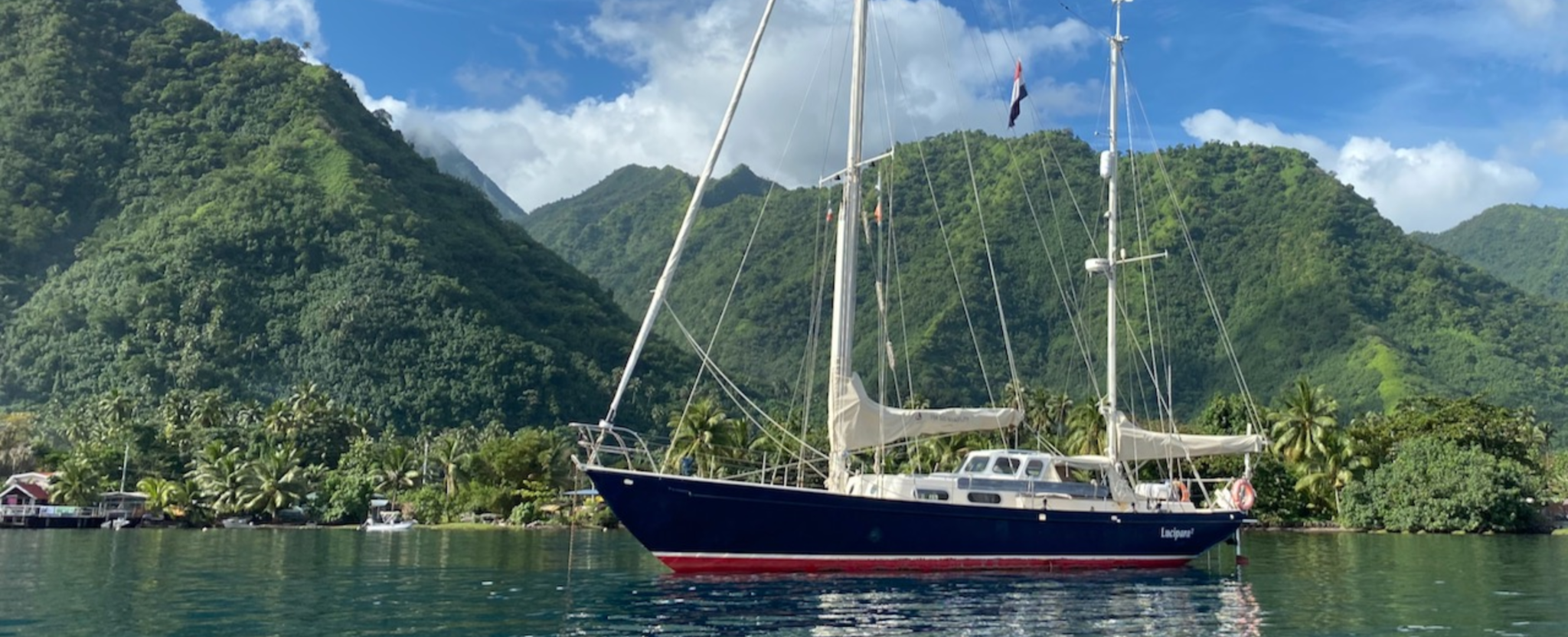 Have there been places on your trip that have surprised you positively?
Places that have surprised us positively during the trip include Patagonia, which has both dry and inaccessible areas on the Argentine side and wet, untouched areas on the Chilean side, with channels that have remained unchanged since the 1800s when explorers first sailed through them. 
What's next?
The boat is now in South Africa, we will return to the boat later. Then along the South African coast across the Atlantic. We still want to see the Caribbean and probably the US East Coast, Canada. Once we are there we have to see if we are early enough in the season to sail via Greenland.
Do you have any tips for sailors who also want to sail around the world?
GO! Definitely GO! and take as much time as you can to enjoy the journey. Don't wait till everything is perfect before setting out, try not to pack too much into too short a time, and being mindful of the weather when planning your voyage. 
Additionally, having the tools and knowledge to repair things yourself can be very helpful, as well as taking a course in a useful skill such as using a sewing machine.